We realize no one machine can meet every situation, but we believe we can meet 80% in a single design with modular options.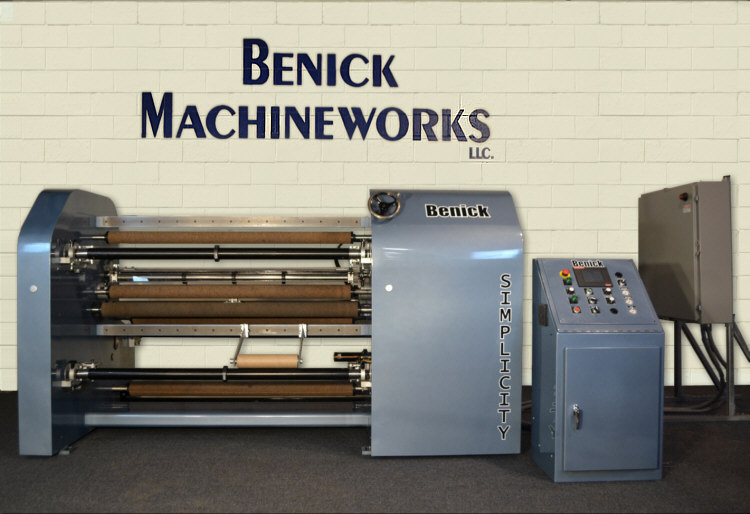 However there is more to flexibility than design. Benick Machineworks offers an attitude towards the customer. This attitude is based on three basic premises:

Premise 1: Make sure we help the customer know exactly what they need to accomplish their manufacturing goals. How?

We ask pertinent questions, lots of them. The people asking have a combined slitting and winding experience of nearly 90 years. Our staff have run manufacturing plants, dozens of slitters, and met virtually any application challenges you can imagine. We are not only engineers, we have real world experience.
We apply what we've learned. We have rebuilt or refurbished nearly 300 slitters. We have slit from 1/16" wide to 120" wide. And we have solved slitting problems for materials from .0003" to .250"

Premise 2: Offer a machine which meets theses goals for the most efficient cost. How?

Don't oversell the customer.
If the process does not need more than 300 FPM, we will offer a single motor drive to save on costs.

If the maximum rewind diameter is 21' we will not offer a 30" rewind diameter machine.

If the maximum web width is 45" we will not try to force the customer into a 62" machine.

Perhaps most important, we know most processes are served well with lift out shafts, and that they often control rewind tension better, so we will not recommend cantilevered technology when it makes no sense and costs much more money

Premise 3: Offer a range of options wide enough to meet most budgets. How?

We offer used machinery options. Many manufacturing situations simply cannot justify the cost of a new machine. Unlike most competitors offering new machinery we continue to offer used machinery. Our reputation for solving slitting problems in a cost effective way with used machinery is well known.

Offering used machinery allows us to focus on our modular design. If a customer needs something out of the ordinary, say a 50" rewind diameter, or perhaps simplex rewinding, we continue to be able to meet such widely varied needs by using our extensive inventory of used slitters, and peripherals attachments.