About Us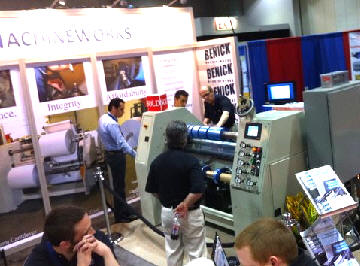 Benick Machineworks, LLC, is a sales and engineering company located in Northeastern Connecticut. Our sales division is in its 13th year of operation and represents a diverse range of converting equipment, including all types of slitters and winders, coating equipment, die cutters, flexible packaging machinery, textile equipment and more. We sell machinery from our own inventory, and we broker machinery owned by others.
Over the years we found our customers required more than just an "as is, where is" purchasing option. They often wanted upgrades, modifications, or other improvements made to their used machinery. In 1999 we responded to these needs by establishing an engineering group for rebuilding and consulting. Benick Machineworks now provides a wide range of options for the used equipment buyer, from simply having their machine cleaned and painted, to having it completely rebuilt and with a warranty.

We also offer "turn key" services. You can purchase a used machine from Benick and we can move it, modify it, provide operator training, and install it in your facility. And when it comes to our specialty, slitter rewinders, we offer a wide range of parts and accessories.

At Benick, our unique blend of sales, engineering and production experience allows us to better help our customers choose the right machine for their job. Many times we will request samples to be sent to us in order to make sure we are recommending the right machine for your application.
Where did we gain this experience? Our founder, Paul Morrisette, worked for Web Converting, a large contract slitter for 12 years. He served in sales, working with customers on the widest possible range of slitting needs, including paper, film, metals and more. He was also the Manufacturing Manager for FilmX, a converter producing polypropylene tear strip products, and providing coating and laminating services. Prior to forming Benick Machineworks, he was Vice President of Manufacturing for Pacon Inc., a contract converter.
Our rebuilding team is led by Nuclear Navy trained electrician David Durning who has a long history in the converting industry. David has run slitters, and served as the maintenance manager for Web Converting. He was also the Plant Manager of Pacon Inc.. As the Vice President of Manufacturing at Benick Machineworks, David has overseen the refurbishing of over 100 machines. While we can rebuild virtually any converting equipment, our special expertise is slitting and winding. Under David's expert supervision we have have given new life to Goebles, Stanfords, Langstons, Jagenbergs, Dusenberys, and more. From 12" doctor machines to 138" two
drum winders we can do it all.
Benick's sales team is headed by Mike Pakonis. Mike joined Dusenbery Worldwide in 1978 spending his first ten years as a Service Engineer. In 1988 he joined the Dusenbery sales team where he worked until 2008 earning "Salesman of the Year" honors six years running. His hands-on experiences as a Service Engineer makes him well qualified to address slitting applications on virtually any type of slitter we deal with at Benick. AS our new V.P. of Sales Mike is a wonderful addition to our team and is ready to help you choose the right slitter for your application.
In 2010 we purchased a machine shop from one of our vendors. Now we do most of our machining, for rebuilding, as well as many of our parts and accessories, in our own facility.
Whether you need to purchase used equipment, sell it, or rebuild it, Benick Machineworks LLC is here to provide you with our expertise and commitment to quality service. Contact us today.